Biography
I have many years of experience in personal training. From the average person that wants to look and feel better, to American football players, tri athletes and marathoners.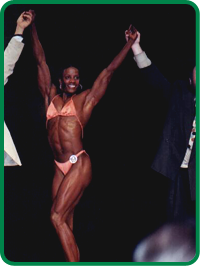 I come from a highly competitive background. As a former, bodybuilder and power lifter, I bring all my expertise and enthusiasm to all my sessions.
So weather you are getting married, play sports or just want to look good walking on the beach... I'm the trainer for you.
Nutrition advice is very important in achieving a client's fitness goal. I give all my clients support and advice adopting a healthy eating plan.
I'm a very enthusiastic and highly motivated personal trainer, who is passionate about helping others achieve their sporting or health & fitness goals.
Achievements
2004 YMCA Personal Trainer Award
1998 Overall Women's Extravaganza Bodybuilding Champion
1996 Runner-Up Kentucky Bodybuilding Championship
1995 CompuServe Women's Power Lifting Champion
1994 Gold Gym Woman's Power Lifting Champion